Quattro
PALIS
Automated Car Park

Description:
- high speed automated parking system
- rectangular shape
- for 30 to 150 parking spaces per system
- simultaneous vertical and horizontal movement
- very compact
- small footprint
- location underground and above ground
- space saving of upto 50 %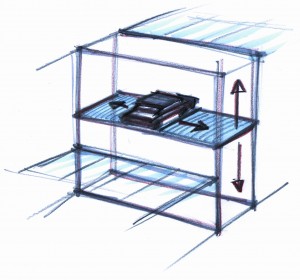 Quattro PALIS building


The Quattro PALIS is the ideal solution for realising a high amount of parking spaces utilizing least space possible.

Components of a Quattro PALIS  Automatic Car Park:

Lift

A centred high speed lift carries the vehicles to the designated level.

Shuttle

With the unique Shuttle-Technology the Transporter can pick-up the vehicle from the concrete floor and place it smoothly at another place.

Terminal

PALIS Enty- and Exit-Terminals feature a high level of comfort for their user.

With the unique "free-positioning" system the user instantly finds the right parking position – intuitively.

For driving out you get your car back turned in the right direction. To us this is as natural as the completely barrier-free and handicapped accessible terminal area.

Quattro PALIS data-sheet as PDF-file:

Notice:

You need Adobe Reader to be able to open the PDF file.