Trans
PALIS
Automatic Car Park

Description:
- high-speed automated parking system
- rectangular shape
- for 50 to 600 parking spaces per system
- modular character
- high redundancy
- upgradeable at any time
- location underground and above ground
- space saving of upto 50 %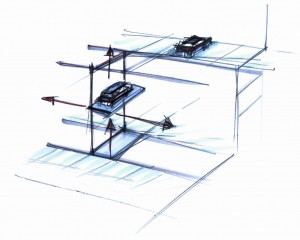 Trans PALIS building




With its modular character and the high flexibility of the TransPALIS components, they easily fit into almost every building shape – no matter if its wide, tight, long short, deep or high.

Components of a Trans PALIS Parking System:

 

Transporter

In TransPALIS systems the vehicle transportation is handled via socalled Transporters. These are moving on the edges of the concrete levels and are able to move freely and fully independent in the building. The amount of Transporters in one building is depending on ts size and the required performance.

Shuttle

With the unique Shuttle-Technology the Transporter can pick-up the vehicle from the concrete floor and place it smoothly at another place.

Turbo-Lift

High Speed Lifts at the end of the building are able to bring the Transporter to the designated Level. After that the Transporter drives off the Lift. From now on Lift and Transporter continue to work independently.

Terminal

PALIS Enty- and Exit-Terminals feature a high level of comfort for their user.

With the unique "free-positioning" the user instantly finds the right position – intuitively.

For driving out you get your car back turned in the right direction. To us this is as natural as the completely barrier-free and handicapped accessible terminal area.

 
 

Trans PALIS data-sheet as PDF-file:

Notice:

You need Adobe Reader to be able to open the PDF file.